How Your Business Can Make Money On YouTube
This is a written Transcription for the episode: How Your Business Can Make Money On YouTube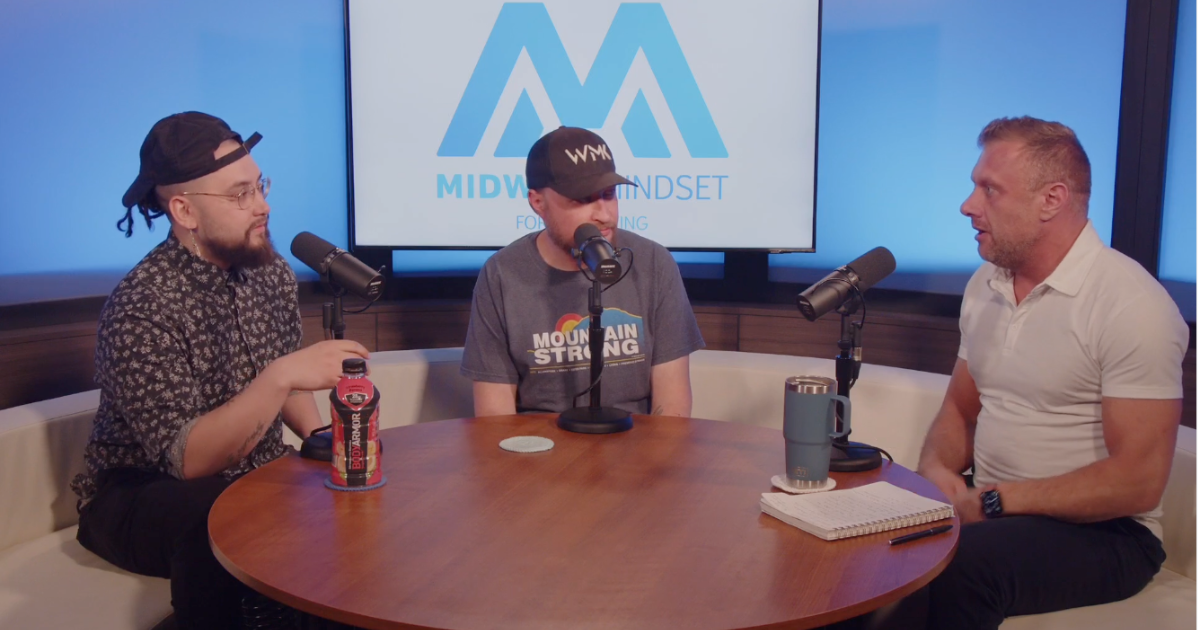 Full Written Transcript of The Episode
How Your Business Can Make Money On YouTube
Matt Tompkins: Let me ask you a question. Why aren't you making money from your YouTube channel? Why is it every business making money monetizing their YouTube channel? Many businesses overlook or dismiss YouTube entirely. That is a mistake because YouTube is the number one social media platform on planet Earth. It regularly falls only behind Google as the top visited website globally.
The reason most business owners aren't using YouTube to grow their business is simple. They just don't know how. Today we're going to change that. We have our returning champions, the masters of monetization Murphy and Walt of Wmbc Media back on the podcast. Youtube has become an essential tool for growing your small business. And today you're going to find out how your business can make money on YouTube.
Hello and welcome back to Midwest Mindset, the podcast that makes marketing easy to understand and simple to do. I'm your host, Matt Tompkins of two brothers Creative, where we passionately believe every business deserves affordable and effective marketing.
There have been a select handful of gifts from the marketing gods, if you will, over especially recent years. I mean, social media being probably a big one there and many, many different ways.
I think the advent of TikTok, which changed the algorithm and changed the network based social media platform, the way things have been done that led to the current state of of Instagram and Facebook reels and YouTube shorts where your video as a business owner, your video is placed in front of new people who don't already like and follow you.
It is an incredible opportunity today for small businesses who are looking to market and grow their their company and have little to no budget. It really is more realistic and doable.
It's more feasible today, I think, than ever before. And so I'm always surprised, yet excited At the same time, I'm surprised to see more businesses have refused to embrace or even use in the slightest degree their YouTube channel. But it's also exciting because there is nothing but potential and I know it can happen.
We've seen what can happen in the first 30 days of implementing a strategy where you simply post one vertical video short per day for 30 days.
Matt Tompkins: Do it on YouTube shorts. We've done it on Facebook, Instagram, TikTok. The results are astounding. You can actually click on the link in the show notes. We put this case study together featuring three of our clients and us first 30 days of implementing this strategy.
The results are so outrageously good across the board. In every instance where we have done this and implemented this strategy, it's kind of hard to believe. I don't want to say it's a guarantee. There are no guarantees in life, but this is as close to a sure thing as you can get in the digital world. There are so many benefits YouTube brings to your business.
Boosting your organic SEO. Establishing you as an authority in video format, reaching tens of thousands of new people who weren't already familiar with you. Following you subscribe to your channel, who will discover you and your business simply by using those YouTube shorts? One of the highest valued assets there is today for your marketing. So it all sounds great, right? But how do we do it? Well, that's what today's episode is all about. So the first thing I had to ask the monetization maestros why aren't businesses making money from their YouTube channel?
Walt Sanders: It takes a long time and a lot of consistency to really monetize a YouTube channel and it takes a dedicated effort and a lot of companies are scared of a long term investment that they honestly don't know if it's going to like. You don't know if it's going to work or not. Well, there's.
Michael Murphy: Too many sure things in their pocket. You know, they're able to rely on that 0.5% click through rate on the email campaigns. They're running right. Or their Google ads are performing at a 1% click through rate. And they know if they spend ten grand, they make 12 grand. So there's a lot of consistent things out there that they think are performing well enough, but they haven't seen what we've seen. We haven't they haven't seen, you know, the behind the scenes analytics that kind of show like, look, a company can grow their brand awareness very well through YouTube.
Matt Tompkins: Way back in 2008, my brother Ben and I, we did this comedy video, this music video called You Can't Say College World Series Today. And it went viral locally. Now, this was in 2008 when to go viral locally, you only needed about 5000 views on YouTube. Obviously, that's not the case today. The audience has gotten bigger and YouTube has adapted. It's not just videos. There are a lot of other tools and resources you can use to build your tribe, your community on YouTube today.
Michael Murphy: Something I think a lot of companies or just people in general don't realize is along with having a YouTube channel, it gives you the opportunity to have a community wall where you're able to post just like you would on Facebook. You can you can post a poll. So now you have an audience that you know is interested in your industry and you can directly poll them on like, what do you like better this t shirt or that t shirt and get the direct feedback and make better business decisions. So just like you said, I love that it is like the stepchild of social media. Nobody considers it in that same realm, but it's the second most used search.
Matt Tompkins: Site on the planet. Yeah, I think one of the main things that YouTube has over its social media competitors is SEO search engine optimization. Youtube is owned by Google. Everybody's competing on Google to show up on page one organically. Just naturally let people find us.
That's how we're going to grow. And if you're a business, you don't have thousands of dollars to spend every month on a pay per click Google ads campaign. Then you need organic SEO growth. Youtube is a secret weapon. It is a lightning bolt. Use the same principles for SEO that you use for a blog article and apply them to a video on YouTube and you will see that video leapfrogged to the top of the search results. Because most businesses are not thinking this way. They're not thinking of applying SEO blog tactics to a video on YouTube. They're not even doing videos in the first place.
Michael Murphy: If you're paying for SEO, you'd be better off paying for having a YouTube channel. Yeah. So to be honest, because these shorts that you can be putting out on a consistent basis are the new blog article that bumps up SEO. We have one specific client that does no SEO. They don't write any blog articles. We've been posting for 60 days for them on YouTube shorts. If you search that a loosely specific term about what they do, they're now number one on the Google rankings.
Matt Tompkins: Hosting a daily YouTube short and posting at least 2 to 3 widescreen format, you know, 2 to 5 minute ish videos on YouTube applying the same principles you apply to the written word for SEO to the videos on YouTube is going to see incredible results. It really is. It's organic. It's going to take time.
You're going to have to stick to it and be consistent, but it will pay off far more than any paid advertising you could do. In fact, they released a report that organic SEO, which these YouTube videos fall into 38% higher ROI than pay per click and Google ads. It's just nobody wants to do it because it takes longer. You got to commit to it. You got to have patience, right? That's just a couple tips that we got into with with Walt and Murphy of Wjmk. Let's get to Walt's number one tip on how to grow your YouTube channel.
Walt Sanders: I think the number one tip and trick that we found now is like creating with a group of other content creators and mapping out. So we have a group of four content creators who every week we get together map out. Our shoots. So we're all helping shoot each other's contents and everybody has their shorts for the week and we have long form content that we post together and both individually, um, having that kind of ecosystem for accountability, but also for help and critique and just knowing like, okay, maybe, maybe you shouldn't post this one because the font looks like trash or like you should, like you have that group of people that you can can bounce off of. And as each channel blows up, like then it's almost like it gives access to the other channels.
So you have the ability to stand up multiple monetized channels at once. If you do it with that group kind of approach, kind of.
Matt Tompkins: Rising, Tide lifts all the boats and.
Michael Murphy: Then and then you need to start and take very seriously what you're going to name your channel, what the branding of the channel is going to be on that cover page and what the profile photo is going to look like, and then also be laser focused on what it is your channel is going to be putting out. So it's like, okay, I'm going to be a gamer, right? So my main content is me playing video games.
And then the second piece of content is a montage of me playing video games. And then the third one could just be me being a talking head, talking about, Hey, did you hear about the latest releases that are coming out? So you want to have multiple prongs that are pushing that same that same message all the way through.
Matt Tompkins: One of the most daunting aspects of starting maintaining a YouTube channel is that we think, I couldn't do this. Where am I going to come up with all these ideas? How am I have to learn how to edit? I have to learn this, I have to write scripts. I got to learn special effects. I don't have time to do this. Keep it simple, stupid.
Michael Murphy: Why doesn't a business have a YouTube channel and why isn't it monetized? You got to look at your your business partners too. Yeah. So now as a business, you're going to have your own YouTube channel. What better way to thank a partner than to feature them? Yeah, we're working with a funeral home. We went to their preferred partner in a florist and featured their florist talking about different flower arrangements and what their what a rose means. That's white and pink and what these different meanings are. So now you're shining the light on your partnerships, strengthening relationships that are very important and vital to your business while building new relationships with potential customers. So it is a you're winning in all areas. It's a win win situation.
Matt Tompkins: Yeah. Another tip is try not to get hung up on the view count. If it's a podcast, don't get hung up on how many downloads you have. Okay. Your podcast downloads are like your bench press. You're the only one who knows how much you can bench and you're the only one who cares.
Trust me, it is purely ego driven. So set that aside and focus on how you can leverage a podcast or a video or a show on YouTube for your business. And one of the ways that we do this is we have our clients.
They will reach out to those those partners, those collaborators, that that dream client that you would otherwise have no chance of ever being in the same room with. And invite them to be a guest on your YouTube show, on your video podcast. They're going to say yes and think about the impression you're going to leave that first impression with that ideal dream client that you've always wanted to do business with. So we got into some more tips and the biggest differentiators which Walt talks about here between those YouTube channels that make it and those that don't.
Walt Sanders: What actually is the differentiator between a channel that makes it and a channel that doesn't?
Matt Tompkins: That's a good question.
Walt Sanders: For me, it's that are you providing are you giving more than you're taking to the ecosystem? What are you giving? Because if you have content that's focused on I'm going to teach you something, I'm going to give you something, I'm going to provide a platform for my partners. I'm going to make this incubator for everybody else to benefit, including, you know, it always benefits the whole group. What if you ended up just making selfish content? What happens in that? Like if you just make self-centered and the only thing you're doing is saying, Hey, come buy this? Yeah, nobody's going to follow that. Like, give.
Matt Tompkins: People something of true.
Walt Sanders: Value. Yeah. What are you actually giving? Authentic.
Matt Tompkins: Authentic value. Always be striving to give people something of true value. It's kind of like our Midwest mindset here, helping other people without expecting anything in return. Ironically, in business, it ends up having the highest return of all. We're going to get to WMC's secret sauce to success on YouTube here in a minute. But first we talked about. The biggest fails. The biggest mistakes that they see other YouTube channels make. That you definitely want to avoid directly.
Michael Murphy: Just thinking of it as constantly being a commercial or a sales pitch. You got to give value outside of just talking about your own company. I mean, that goes back to the selfish thing. I would say also starting and stopping and starting and stopping, you're.
Matt Tompkins: Basically starting from scratch.
Walt Sanders: So as you gain five followers, you lose seven. Yeah, yeah.
Matt Tompkins: Yeah, exactly.
Walt Sanders: Yeah.
Matt Tompkins: And last but certainly not least, WMC's secret sauce to YouTube success.
Walt Sanders: Secret Sauce Alert. Secret sauce alert. Hey. All right. Hey, we are in America right now. Okay. We have access to a small percentage of the world's population. There is an entire world of people that love to watch us react to their culture. Like, I swear to God, if you if you go on there and you. You react to, like, look for different stuff in other cultures and just watch their videos and film yourself reacting to it. Yeah. Secret sauce, Secret sauce. Go blow your channel up. Watch it. Watch it happen. Be authentic. Yeah.
Michael Murphy: Don't fake your reaction. Yeah, yeah. If you didn't like what you just saw, say it.
Walt Sanders: Yeah, for.
Michael Murphy: Sure. Get some hate.
Matt Tompkins: But also, you can't have the woke filter going on.
Walt Sanders: You got to be authentic. Yeah, you.
Matt Tompkins: Got to be authentic.
Walt Sanders: Correct? Yeah, because they'll see through that shit. They'll be able to see like, Oh, this guy's just on here trying to make some money. They want you to actually engage with their culture. Yeah, but.
Michael Murphy: The first thing you want to do to start growing it fast is be consistent. And if you can afford to do it post 6 to 8 times a day, 6 to 8 times on shorts.
Matt Tompkins: On shorts. This is one that's hard, I think, for a lot of people to kind of wrap their heads around. And I understand why we're so used to the old school linear timeline model for social media platforms, reels, TikTok, YouTube shorts, stories. They're all self-contained in their own little categories. And you can't over post. Now there are techniques and strategies that Murphy's going to share here in just a second on what you should do, but you could post 6 to 8 times a day. Like you said, we've posted as many as ten at once and reached wildly different audiences with every single video because they are now tailored to who is best suited to be engaged with each video based on its content.
Michael Murphy: Never within an hour of each other. Okay. And two sweet spots that exist for all channels is 3:11 a.m. and 3 a.m. no matter the time zone, 11.
Walt Sanders: A.m. and 3 p.m.. 11 a.m., 3.
Michael Murphy: P.m., 11 a.m., 3 p.m. No matter what time zone you're in, make yourself do that.
Matt Tompkins: One last tip is to maintain that attention through the entire video.
Michael Murphy: Just try to tease people all the way through the first 10s of the video. And I mean that from the beginning. When you're thinking of the title, tease them. When you're thinking of the thumbnail, tease them like build curiosity in their mind in some form or fashion. And then right at the beginning of the video, get on the verge of answering the question that you built Curiosity about, cut it off and say you got to stick to the end of the video to watch it. Yeah, do your whole video.
Matt Tompkins: That drives me nuts when I watch those. Because you do you get sucked in? Yeah, Yeah. It's like, come on, get.
Michael Murphy: That's the funniest thing about studying the way that we all three do. Yeah. Is that like, it gets to a point where you think you're studying, but really, you're just the. You know what I mean? Like, you're the they got you.
Matt Tompkins: It's like on social media, you are the study because you're the product.
Walt Sanders: It's like it's like.
Michael Murphy: Yeah, I clicked on one video and six hours later I'm there with a bag of popcorn and a hangover.
Walt Sanders: Like, Yeah.
Michael Murphy: Just watch.
Matt Tompkins: What happened in my life.
Michael Murphy: Got me from one thumbnail.
Walt Sanders: Yeah, Authenticity is still king and interpersonal relationships. So when you're when you're posting this stuff, you're talking to real people and like, connecting with that audience and giving them something tangible, whether it's, you know, some a feeling, a good feeling you gave them during the day or just some imprint their emotions through your through your channel, whatever that is. Youtube, Instagram. Now this the other tip is YouTube is king. Like if you're going to pick one, pick one social media, do YouTube double down. We've doubled down our entire business on YouTube and.
Michael Murphy: I would keep an eye on Twitter.
Walt Sanders: Yeah, Twitter.
Michael Murphy: Elon is going Elon is already said he's going to make a monetized version of for content creators just like you like YouTube but.
Walt Sanders: Better so and you can have up to like an hour you can post up to an hour right.
Michael Murphy: Like right now you can. But like he's going to create a Twitter partner program like the YouTube partner program so that when ads are run and you're even going to be able to run ads on comment replies, I don't know if you know this, but on Twitter, like the best way to get traction is to be in the comments. Yeah, like if you're starting off. Yeah. So starting to just so have your reply ready. Be like oh no on this topic. Actually this is my opinion on it. Post it in there and you'll be able to monetize that.
Matt Tompkins: That's a huge thanks to Walt and Murphy of for coming back on the podcast here today. I know we'll have them on again and again. Just because I love nerding out about this stuff. I could talk about it for hours. I honestly just think it is so cool that there is a free tool called YouTube. It doesn't cost you anything. That you can set up along with another free tool, your Google business profile and the many others Google gives you.
But you can use YouTube and your Google business profile and you can take these free tools with all of this free knowledge that we have just given you here today on this episode and in so many past episodes and in so many other books and podcasts and resources you can find on. I don't know, say, YouTube. Y
ou can take the free knowledge with the free tool and you can make money. You can grow your business. You can organically grow your business. You can do your own digital marketing. It is organic. It takes time. It takes commitment, but it's not going to cost you a dollar. It's only going to make you dollars.
All it takes at this point is time, commitment and effort. If you want to check out that link to the case, studies that I mentioned earlier show you those incredible results. After just the first 30 days of implementing this daily YouTube shorts strategy. The link is in the show notes. Also got the details on how to get Ahold of them. If you want help with your YouTube channel. They are the pros. Who knows? I don't know.
Starting to rhyme something there. It didn't really flow well, so they know what they're doing. I'm not going to. That's the last time I try ending this podcast with a rhyme. I am not a rhinoceros. On that note, thank you so much for joining us here today on Midwest Mindset. My name is Matt Tompkins and we'll see you on the next episode.
Speaker4: And that's a wrap.