The Best Podcast Equipment for Beginners
Finding the best podcast equipment for beginners can be daunting and overwhelming with so many options.
Here's the hard truth: People will forgive poor video quality, but they will not forgive poor audio quality. This is especially true when you consider how intimate the listening experience is with podcasting.
When you host a podcast, you are in an intimate conversation with your listener. Any flaws in the sound of the audio will impact the listener's experience.
Today we will explore the best equipment to guarantee a fabulous hearing experience for all your followers.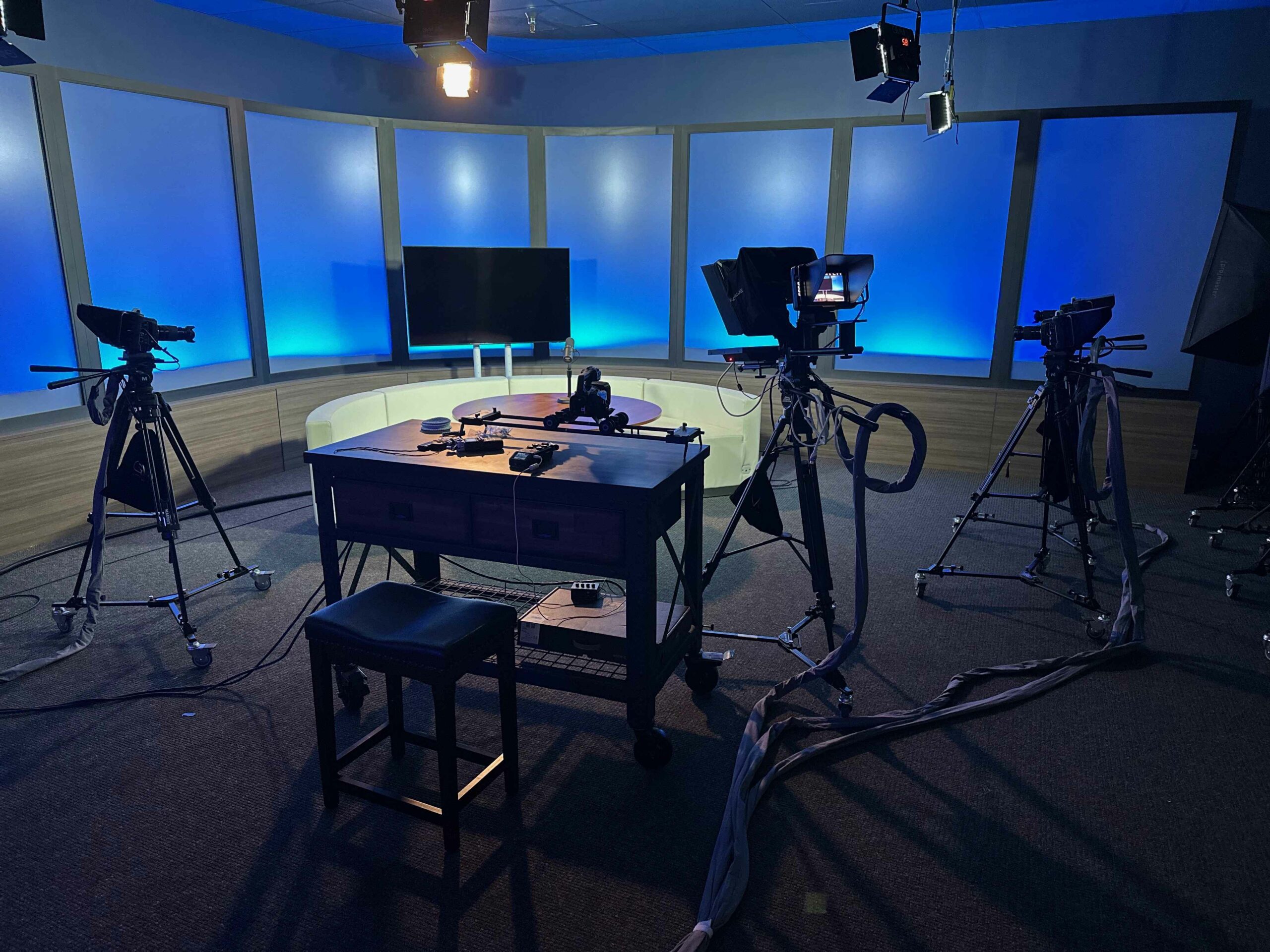 Invest in the Best Podcast Equipment for Beginners
If you're serious about starting a podcast, investing in high-quality equipment is a must. It's a one-time expense that will directly impact every second of every episode for the lifetime of your show.
After 18 years in radio and television, I have used nearly every microphone, audio recording interface, sound mixing control board, and every other gadget you can think of.
I'm passing on my experience to you. This includes my wins, mistakes, and money wasted. This way, you will know what you need to get the best podcast equipment for beginners.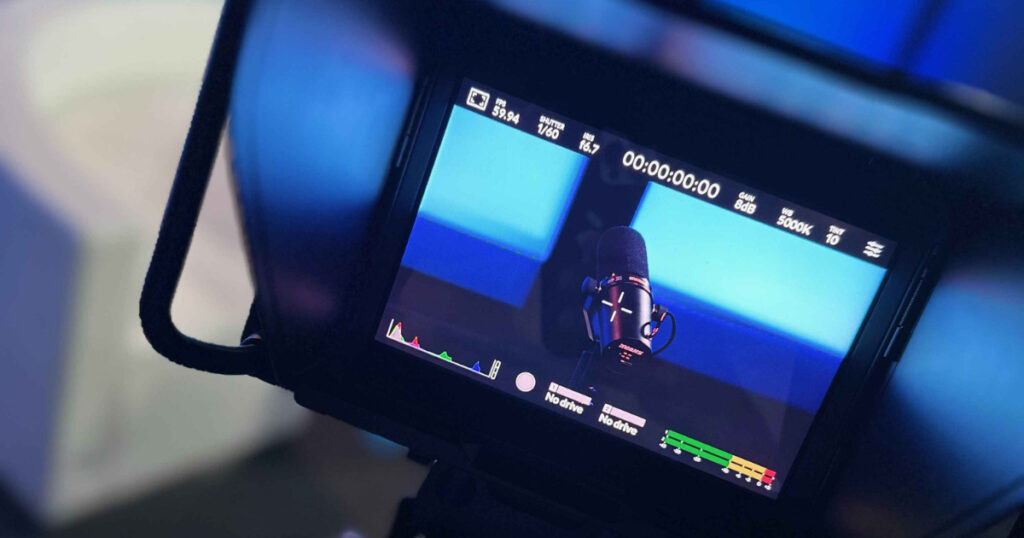 Understanding Your Podcasting Needs
Before diving into specific equipment recommendations, it's essential to understand your podcasting needs. What is your podcast's format?
Is it a solo 'monologue' style show with just the host? A roundtable conversation with people together in person? Or is it an interview format or remotely over the internet?
The answers you give will have a major impact on the cost of your equipment.
Go Solo First & Record Remote
Invest in a 'solo' setup for yourself and conduct your interviews or co-hosts remotely over the Internet.
Recording platforms like Riverside and Streamyard now make remote recording possible. They provide high-quality audio and video in full HD.
Recording remotely like that is a creative way to reduce your costs on equipment. For example, a solo setup for you means you'll only need one microphone, one stand, a cable, and a solo audio interface, minimizing the costs a ton.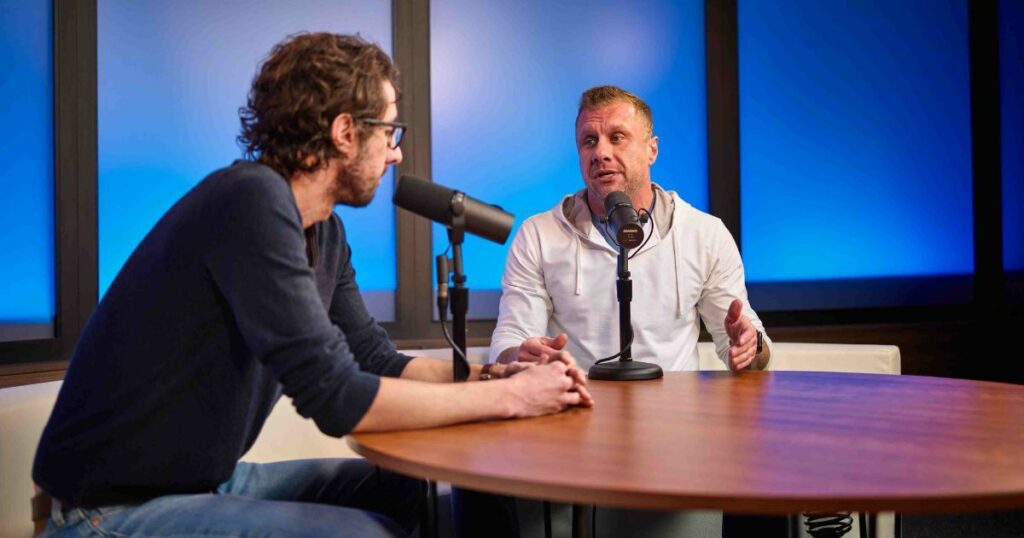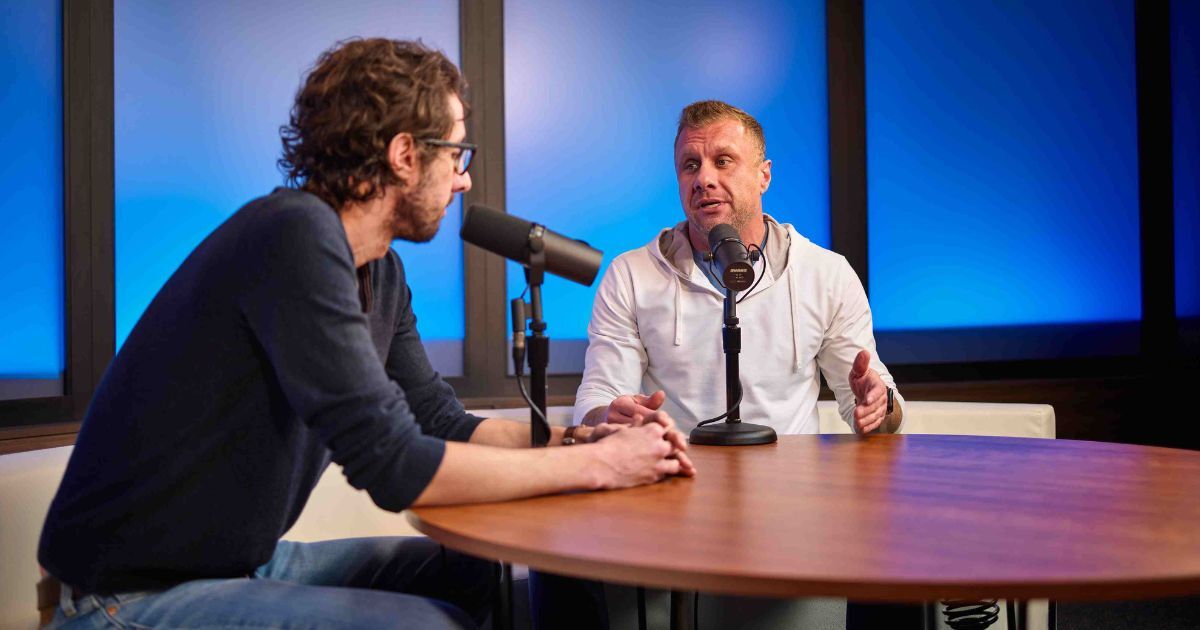 Which Microphone Should You Get: USB vs. XLR
The heart of any podcast is the microphone, and as a beginner, you'll likely be deciding between USB and XLR mics.
USB Microphones are convenient and easy to use. They are also cheaper than XLR mics. However, you will sacrifice some audio quality when using a USB mic.
Remember: the cheaper you go, the faster the quality of your audio goes down, too.
While XLR mics require an audio interface to connect to your computer, they do provide much better sound quality. XLR microphones can be costly. However, investing in one may be beneficial in the long term.
My Recommendation: XLR Hybrid USB
You should go with a hybrid setup that utilizes the pros of both USB and XLR for an affordable, portable, easy-to-use plug-and-play setup.
With a USB-powered audio interface like the Scarlett Solo, you get ease, convenience, and portability. Another good option is a ShureSm7 XLR mic to maintain a higher-quality sound.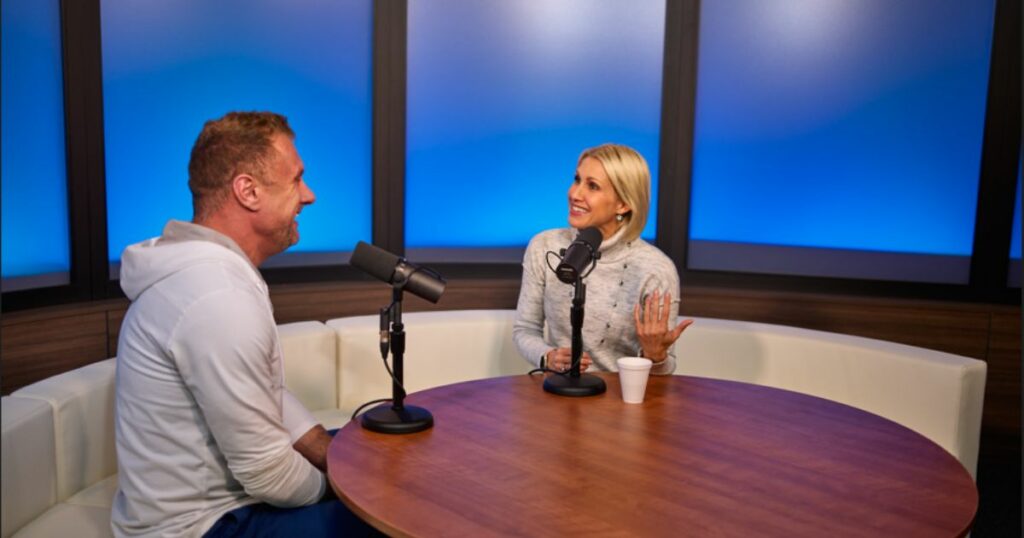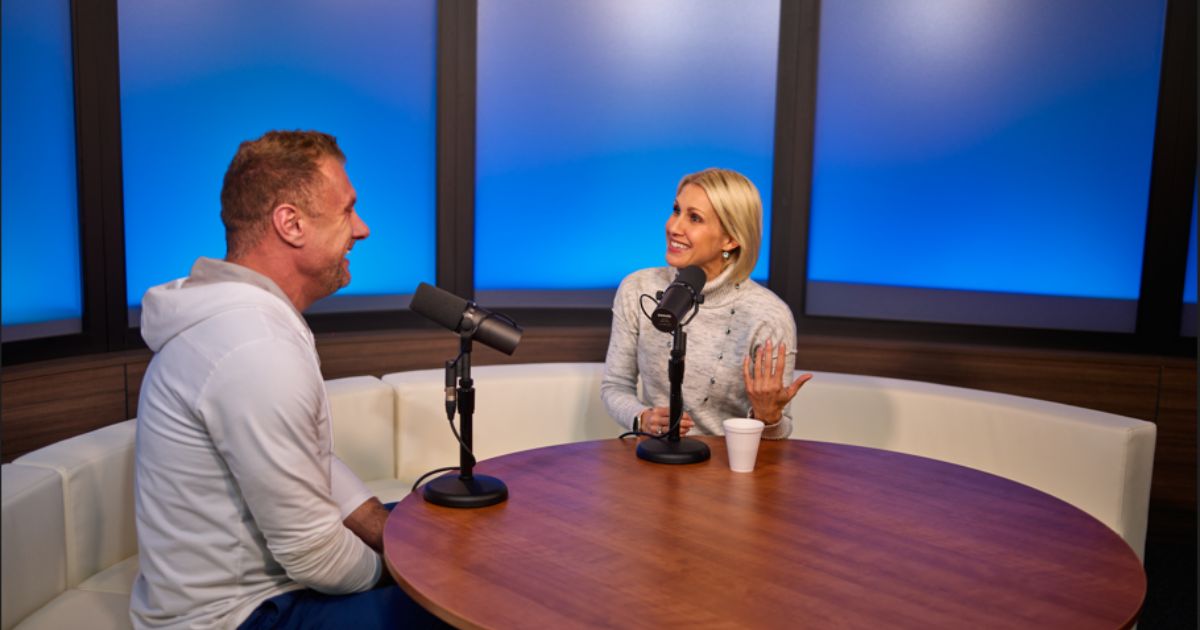 Best Podcast Equipment for Beginners Setup
Now that we've covered the basics, let's explore the best podcast equipment for beginners, including microphones, audio interfaces, headphones, and accessories.
Which Microphones Should You Get?
As mentioned earlier, choosing between USB and XLR microphones is a significant decision for beginners. Here are some top recommendations in both categories:
USB-Powered Microphones
For USB-powered microphones, I recommend the Shure MV7 USB-powered podcast microphone. If you're not going to go with an XLR mic due to budget restrictions, you still need to go with a high-quality microphone, and Shure microphones are the industry standard for podcasting.
They look presentable on camera and come attached to a mount that is easy to attach and start recording episodes. Price: $249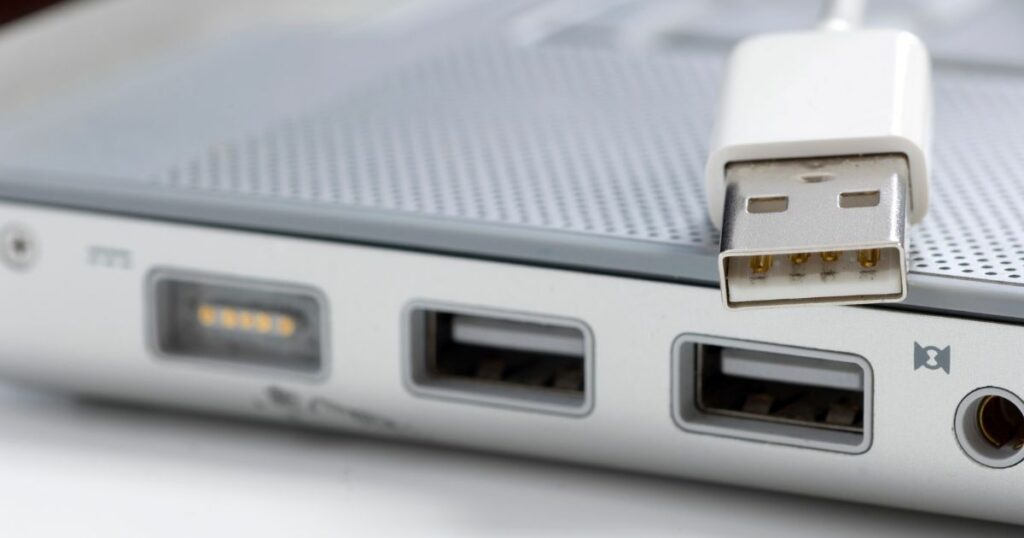 XLR Microphone: Shure SM7B
The Shure SM7 Microphone has become my go-to choice for podcast and audio production. They sound amazing, are portable and easy to set up fast, and look sharp on camera for video podcasts.
RE20 Dynamic Microphone
These are the best-sounding vocal mics you can buy, with the quality even beating out the SM7B – which is only our top pick because of the price difference. The RE20s are those big old-school microphones you'll see in every radio station across the country.
The RE20 has been a standard microphone for radio hosts for decades and remains the industry standard. This is likely because radio stations have no budget to upgrade their equipment.
The RE320 Dynamic Microphone
They also make a RE320 Dynamic Microphone, which is nearly identical looking compared to the RE20 mic, but at a much lower price point that comes in at around $280-299 each. There is a difference in the type of sound quality versus an RE20, with the RE320 having less of a 'low-end' 'full' sound to them. The RE320 is a fantastic mic, though, and it will easily get the job done.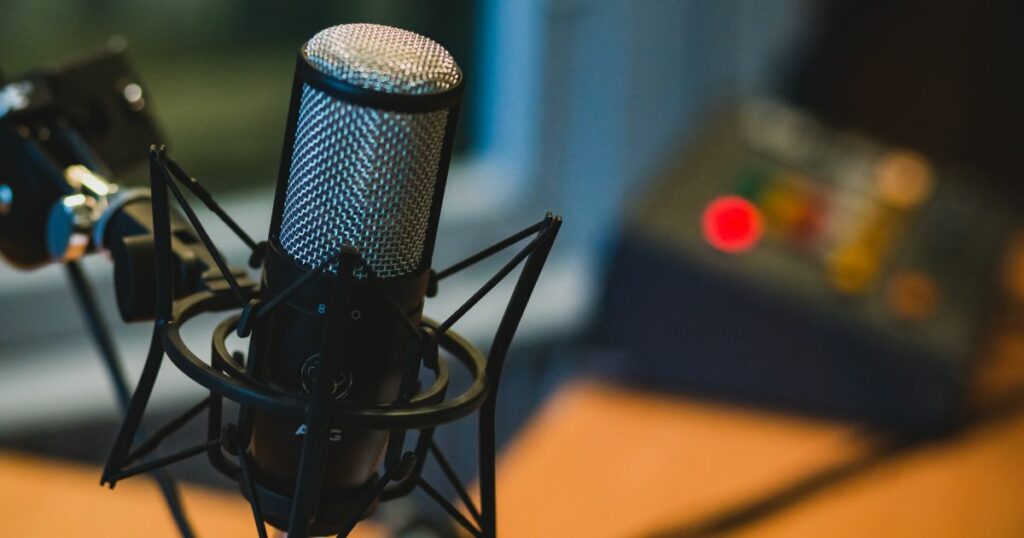 What Microphones Should You NOT Get?
Sure, a USB microphone for Zoom meetings or a cheap USB-powered microphone will get the job done. However, if you are hosting a podcast, then you need to take the quality of your audio very seriously.
The Blue Yeti
The Blue Yeti is a popular choice among podcasters. Not to beat up on the Blue Yeti here, but you are better than a Blue Yeti! When you invest in quality gear, you are investing in yourself.
The Rode PodMic
Then there's the Rode PodMic Cardioid Dynamic Broadcast Microphone. The Rode PodMic's sound is 'tinny,' from my experience, lacking enough low-end depth or rich 'volume' for your voice.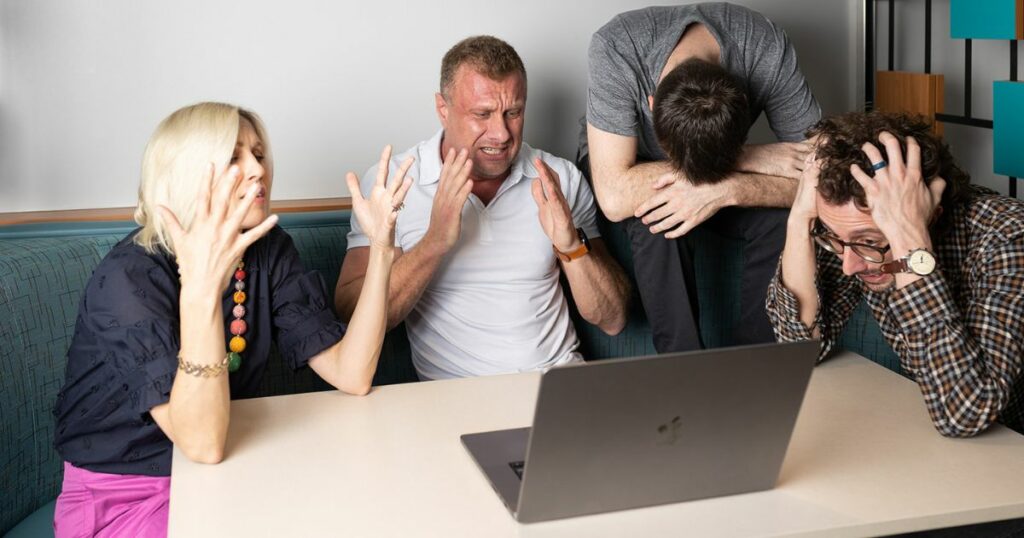 The Headset Microphone
Unless you are an air traffic controller or calling play-by-play for a high school football game, there is absolutely no reason whatsoever for you to use a headset microphone.
Headphones like the Audio-Technica BPHS1 are ideal for news broadcasts and internal communication, where the audio quality is forgivable.
These headsets are not at all designed for an intimate listening medium like podcasting, and because of that, they sound horrible. The sound quality is shallow, tinny, and sounds like you're on an AM radio station back in 1955.
Which Audio Interface Is The Best Choice?
If you choose an XLR microphone, you'll need an audio interface to connect it to your computer. Audio interfaces convert the analog signal from your microphone into a digital signal that your computer can process. Here are two beginner-friendly options:
Focusrite Scarlett Solo
This compact, budget-friendly audio interface offers one XLR input and delivers excellent sound quality. These are very affordable, with solo interfaces starting at around $119 that also accommodate XLR and musical instrument inputs.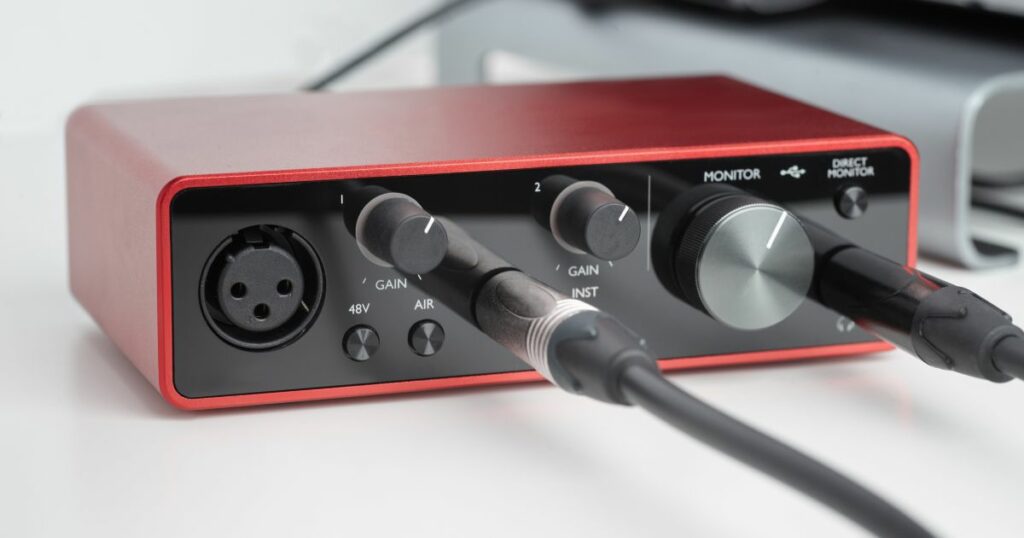 Behringer U-Phoria UM2
This is an affordable option with one XLR input; the UM2 is perfect for those starting with a single microphone setup.
What Are The Best Podcast Headphones To Get?
Monitoring your audio while recording is crucial for ensuring your podcast sounds professional. A good pair of headphones will help you catch any issues with sound levels, background noise, or sound effects. Here are two options suitable for beginners:
Audio-Technica ATH-M30x or M20x
The Audio-Technica ATH-M30x (or ATH-M20x, Alternatively)Professional Studio Monitor Headphones are in the mid-range for pricing, but the sound quality is fantastic. These are durable headphones that last a long time, making this my top recommendation for you. These headphones price out at around $49.99 to $79.99, which is very reasonable for the quality you'll be getting.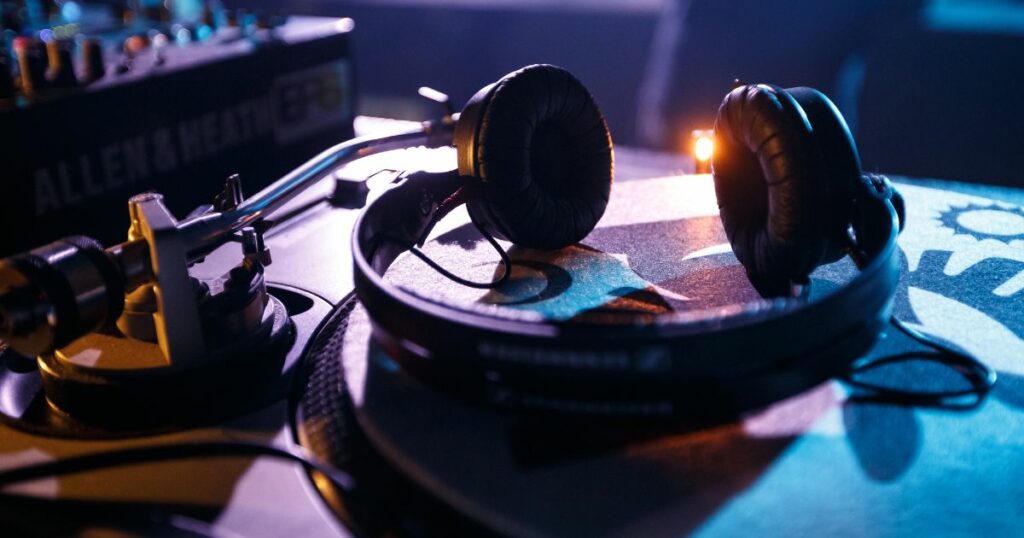 Audio-Technica ATH-M50x
If the price weren't an issue, then I would recommend getting these over-ear headphones that offer a comfortable fit and excellent sound quality, just for a little bit higher price. These headphones are definitely not on the cheap end of the price range, but this is what I would call a sound investment. (pun intended)
Apple AirPodMax
These are wireless, and I mostly wear them for music and video editing, but they are by far the most comfortable headphones I've ever worn.
The standard listening mode, Noice Cancellation, and Transparency modes are incredible, and they naturally switch between my laptop for Zoom calls and back to my phone seamlessly.
The downside to Apple's AirPodMax Headphones is the price tag. They go for around $650 or higher, making them understandably out of most people's budgets. But, hey, a girl can dream, right?
Recording and Editing Software
Once you've captured your audio, you'll need software to edit and polish your podcast. There are several free and paid options available that cater to different skill levels and preferences.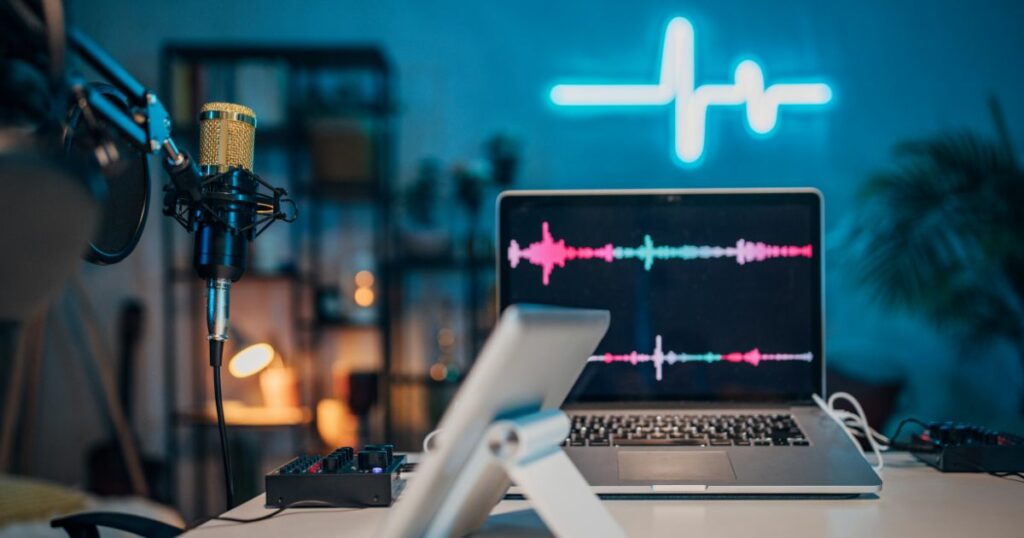 Adobe Audition
A professional-grade software with advanced editing features, Adobe Audition is a great choice for those who want to invest in a more powerful editing tool as their podcast grows.
FCPX
Nowadays, I actually use Final Cut X for my audio editing. Final Cut has greatly improved its audio processing and mastering with new features. It's only $299 to buy it and will easily be well worth the investment in the long run.
Best Podcast Equipment: Accessories
To complete your podcast setup, you'll need a few essential accessories:
Pop Filter
'Plosives' are something you definitely want to avoid for your listeners' sake.
A pop filter is a screen that helps minimize plosive sounds (like "p" or "t" and "b") that can cause distortion in your audio. The Dragonpad USA Pop Filter is an affordable option that does the job well.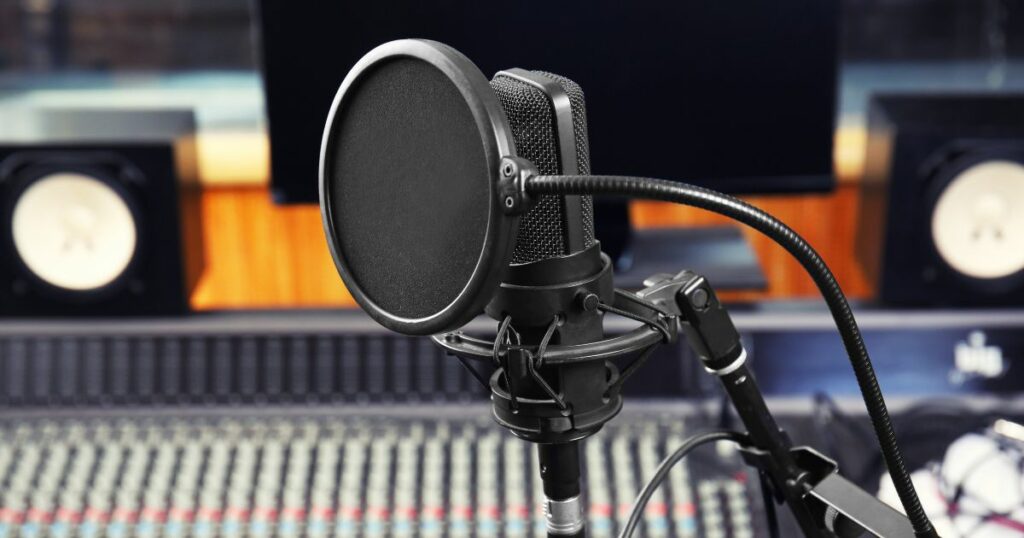 Microphone Stand or Boom Arm
A microphone boom arm is like a bendable microphone stand that is easy to position and reposition, even while you're talking into the microphone. There are two options I highly recommend. Both of these options have desk clamps to easily attach to any table or desk without damaging it.
Boom Arm Top Pick: The best quality boom arm is the Blue Compass Premium Tube-Style Broadcast Boom Arm. These look super professional and polished and are easy to lock in place where needed.
Boom Arm 2nd Pick: The O.C. White Podcast Pro by Accu-Lite Mic Boom Package (Silver) is a great choice for beginners because it actually comes with an XLR microphone cable already built into it. This means less setup and wires for you to have to deal with. The price is reasonable at around $99, but when you buy a Shure SM7 on BandH, they often include bonus items with your purchase. I have received 3 of these Silver boom arms for free, just for buying a top-quality mic.
Shock Mount Pick: You don't necessarily need to buy a shock mount, as both of our microphone recommendations can mount directly to your mic stand or boom arm. Shock Mounts are just an extra layer of sound protection so that your mic doesn't pick up noise every time you bump the table or touch the boom arm.
This accessory helps isolate your microphone from vibrations and handling noise. Some microphones, like the Audio-Technica AT2020, come with a shock mount included, while others may require a separate purchase. Shock Mounts for the RE20 and RE320 run about $109 each.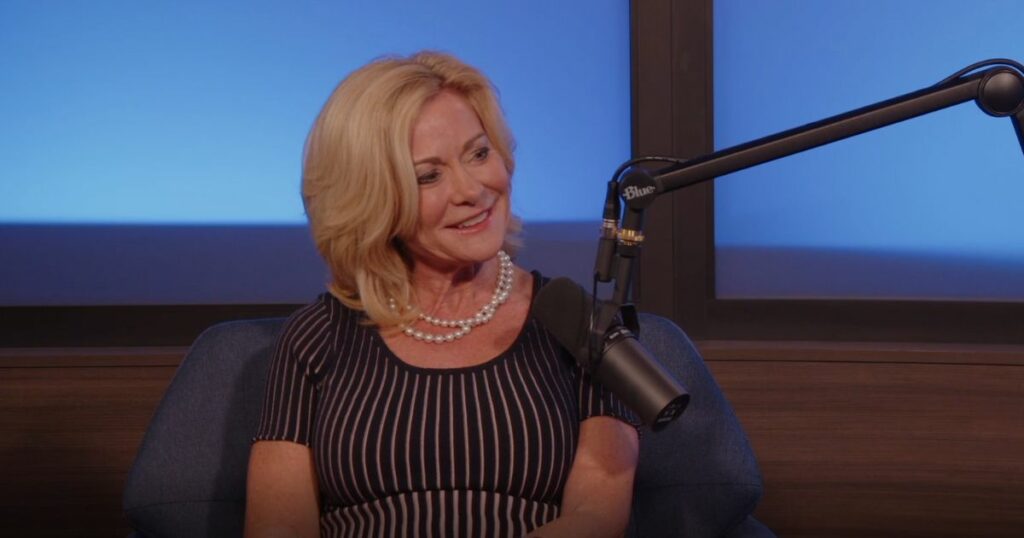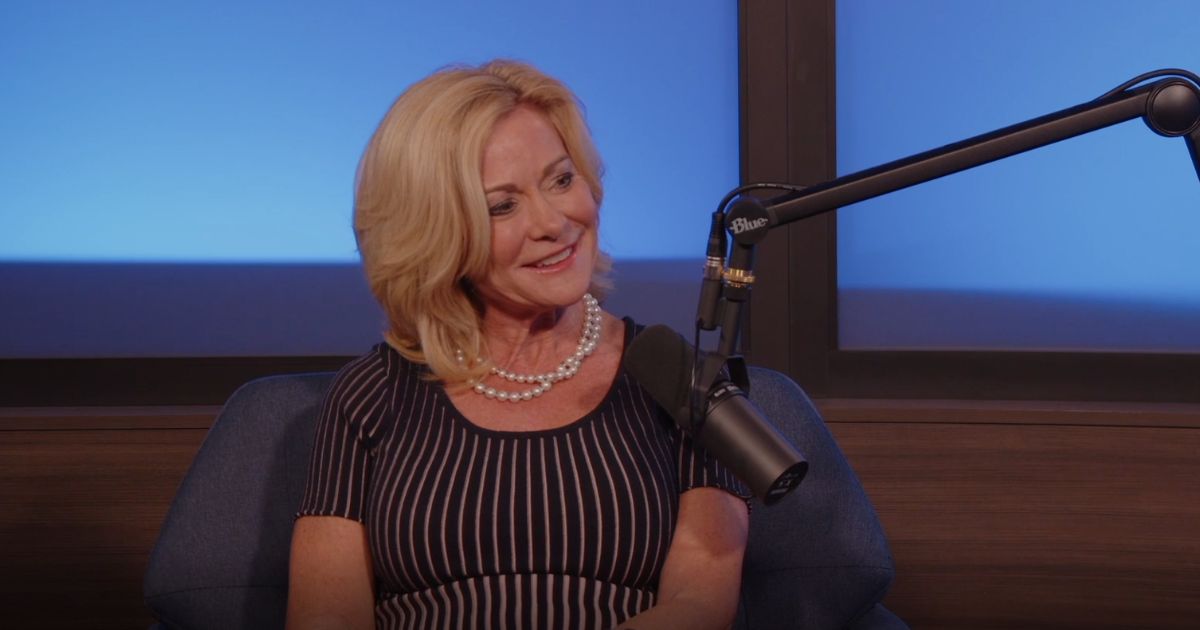 Podcast Equipment for Beginners Tips: Make the Most Out of It
When you're starting, it's crucial to strike a balance between value and quality. Here are some tips for making the most of your podcasting budget
The options we recommend to our clients and to you are going to cost around $700 in total. That includes the Shure SM7 mic, Scarlett Solo audio interface, Silver Boom Arm with XLR cable built in, and headphones to monitor recordings.
Plus, recording software like Adobe Audition (around $50 per month), or you could pay a one-time fee of $299 to own Final Cut Pro.
The assembly is what I highly recommend because it will guarantee that your podcast sounds amazing. There's no risk of you fumbling over gear, struggling to install apps, updates, and program issues because this assembly is literally plugged and played.
When you're considering how to balance what I recommend and what will actually work with your budget, here are some tips to help you out:
Prioritize: Invest in essential equipment first, like a good-quality microphone and headphones. Additional accessories and upgrades can come later as your podcast grows.
Shop Around: Take the time to compare prices and read reviews. Look for sales or refurbished items to save money without compromising on quality. Shop on eBay, Amazon, and our favorite equipment distributor: BandH
Start Simple: Don't let the vast array of podcasting gear intimidate you. Begin with a basic setup and gradually upgrade as you gain experience and confidence in your podcasting skills.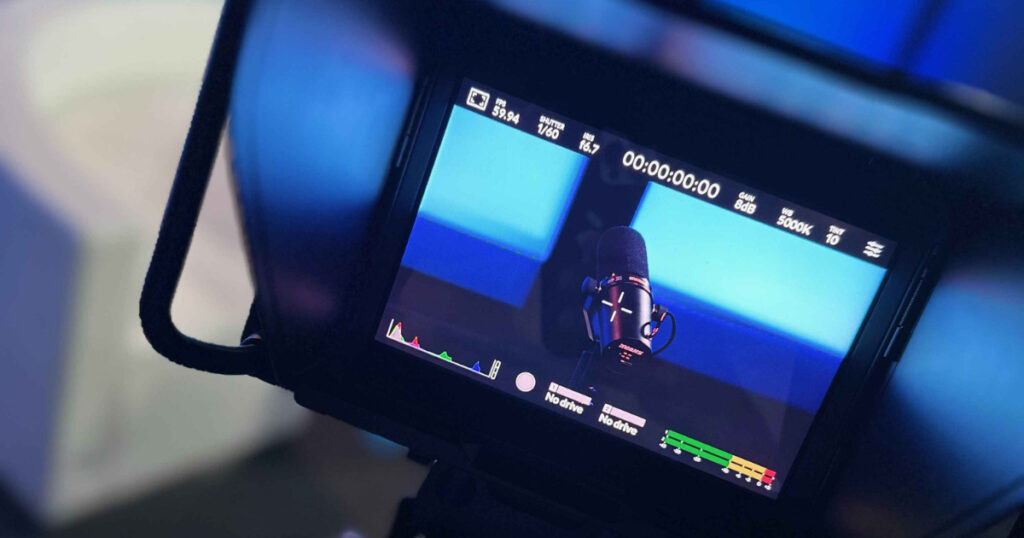 Last But Not Least: Your Podcast Recording Studio
Today we are extremely lucky to have built a state-of-the-art audio and video podcast recording studio in Omaha. The Omaha Podcast Studio is the premiere recording facility in our hometown of Omaha, but we didn't always have it this good, trust me.
My first 'studio' in radio was called 'The Toilet Studio' due to it being the same size as a bathroom stall and because it was located four feet across from the men's and women's bathrooms.
What Do You Really Need for a Podcast Studio?
It's all about the sound waves and if they have a place to go. Sound waves project out of your mouth, and then they will bounce off of hard surfaces (like walls and ceilings) and keep bouncing all over the place, creating that 'echo' or 'reverb' you've probably noticed in homes.
Sound Foam is a quick and easy way to deaden that sound, and you can put this up on walls and ceilings easily enough.
A simple and portable trick is to purchase a portable sound foam 'voiceover booth.' Options like this portable sound booth are very reasonably priced at around $27-$40 and even include a desktop microphone stand that comes with it.
Just make sure you're in a room where the sound has a place to be absorbed. Hang up some towels around you, stack up some pillows, whatever you can do to deaden the sound in any room, the better you're going to sound on your podcast.
Note: Avoid large rooms to record in. A small room, even a closet, is what you want to achieve optimal sound quality.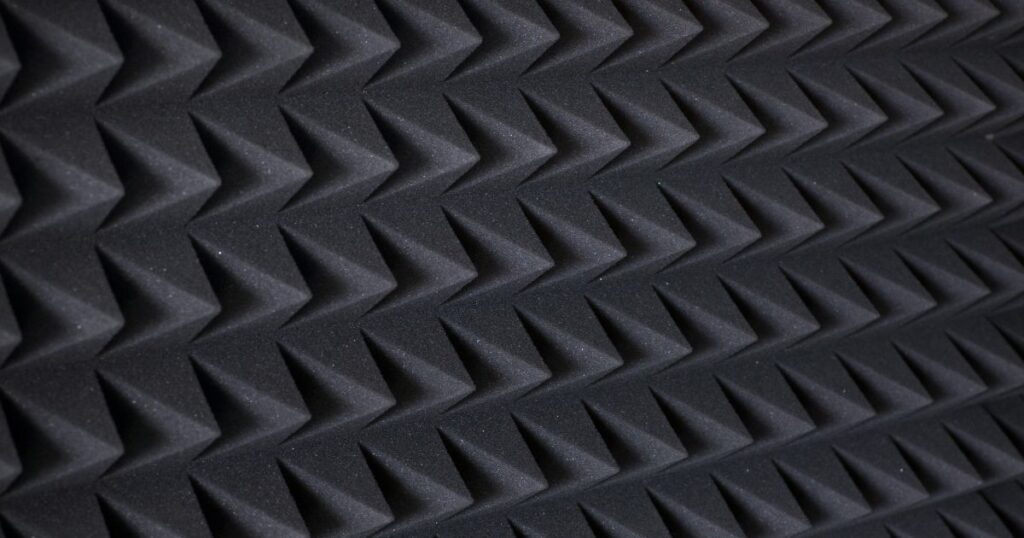 Podcast Equipment for Beginners: Are You Ready To Start Now?
We are here to help you develop, produce, launch, and maintain your podcast so that you can focus on what is most important: the quality of your content in each episode.
As experienced podcasters and producers, we understand the challenges of selecting equipment, preparing guests, and maximizing each episode to deliver content across multiple platforms. Our team is different from other production warehouses because we are invested in the success of your podcast just as much as you are.
Two Brothers Creative: Content in a Box
Together we'll identify actionable steps you need to take, from selecting channels that best capture your audience's attention to creating memorable storylines that keep them engaged. Say goodbye to confusion, wasted time, and financial underperformance with Two Brothers Creative.